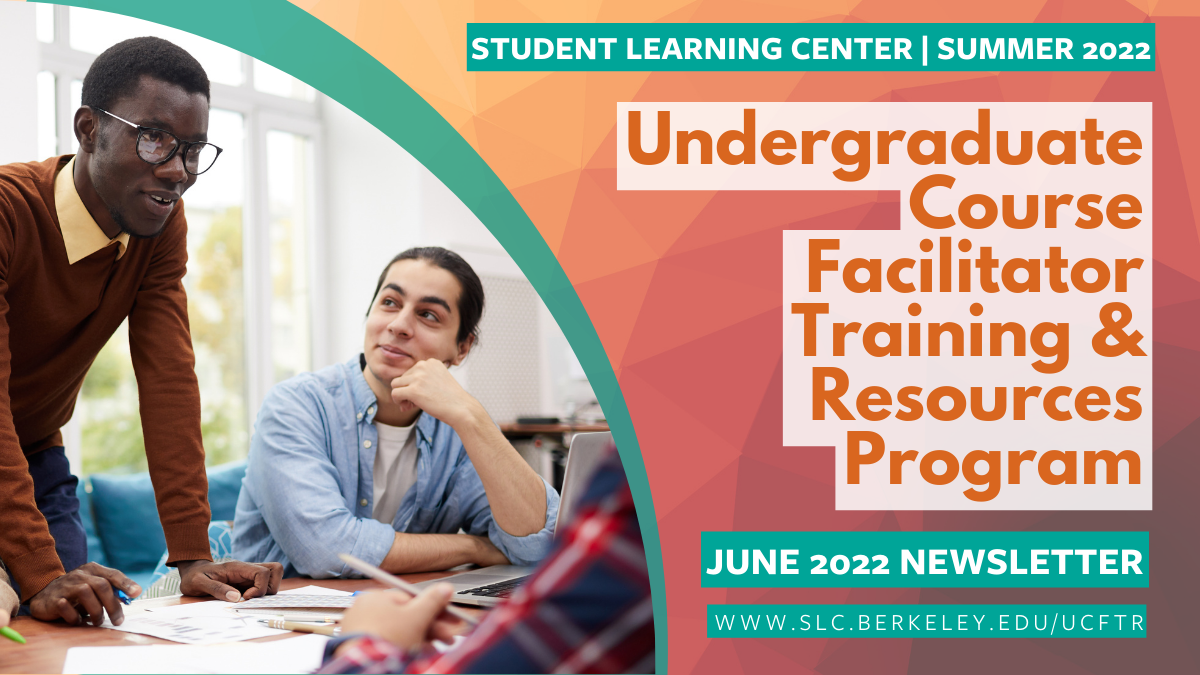 Greetings DeCal facilitators!
We hope that this message finds you well and that you are enjoying your break!
We're writing to share UCFTR's FINAL pedagogical training workshop dates for Summer 2022 and reminders about upcoming DeCal deadlines!
---
Training Workshops
Are you a first-time DeCal facilitator for Fall 2022? Do you still need to complete your mandatory pedagogical training requirement? If so, make sure to fulfill this requirement by attending one of UCFTR's workshops by July 12, 2022! 
Our workshops are designed to support you as you prepare to offer your DeCal in the Fall. They are also a great venue to meet and connect with fellow DeCal facilitators!
The following dates will be the LAST of our workshop offerings this summer. Our workshops fill up quickly, so make sure to RSVP and snag a spot today! 
"Facilitation Habits that Enhance Student Learning" – RSVP HERE
Thursday, June 30, 2022 II 5 - 6 PM II Via Zoom
Tuesday, July 12, 2022 II 1 - 2 PM II Via Zoom
"Three Pillars of a Student-Centered Syllabus" – RSVP HERE
Wednesday, June 22, 2022 II 2 - 3:30 PM II Via Zoom
Friday, July 8, 2022 II 1 - 2:30 PM II Via Zoom'
---
Department Deadlines
Although the Academic Senate deadline for Fall 2022 DeCals is July 12, 2022, some departments have deadlines set earlier! Check out UCFTR's Department-Specific DeCal Information sheet to get the details on your department. The following departments have upcoming DeCal deadlines: 
---
Consultations
Want one-on-one support on your DeCal proposal as the Fall 2022 DeCal deadline approaches? Schedule a 30 minute consultation appointment with the UCFTR Coordinator! Take advantage of this service to ask questions about the course proposal process, seek feedback on proposal materials, and more! 
---
Reach out to slc-ucftr@berkeley.edu if you have any questions or if we can provide any support. We wish you all the best in your DeCal proposal process and a lovely summer!
View this newsletter in your browser. 
Want to sign up to receive this newsletter in your inbox? Register to be part of our listserv: bit.ly/ucftr-listserve.