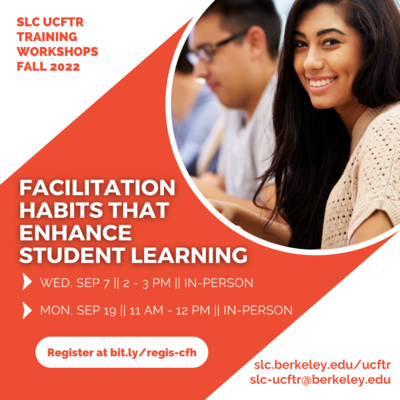 Calling all Spring 2023 DeCal facilitators!
Complete the mandatory training requirement for first-time DeCal facilitators with UCFTR! Join our "Facilitation Habits that Enhance Student Learning" training workshop this September to examine teaching behaviors that hinder student learning and explore strategies for cultivating alternative habits that optimize student success. RSVP at bit.ly/regis-cfh!
Our dates for September 2022 include:
Wed, Sep 7 II 2 - 3 PM II Chávez Student Center
Mon, Sep 19 II 11 AM - 12 PM II Chávez Student Center
The SLC welcomes persons with disabilities & provides reasonable accommodations upon request. Email slc-ucftr@berkeley.edu with any questions or to request accommodations.