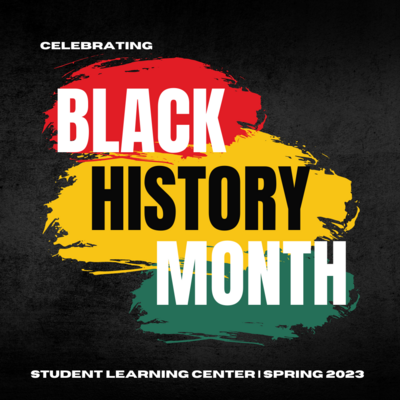 In February, we honor Black History Month. 
First celebrated as a Black History Week in 1926, the holiday was envisioned by Carter G. Woodson, a Harvard-trained historian, to bring awareness to the often overlooked achievements and contributions of Black Americans. The celebration was expanded to a month in 1976, fifty years after the first celebration. 
The Student Learning Center is proud to serve the Black scholars in our learning community. We invite you to view the resources below and join us in commemorating Black History Month by learning more about the holiday and exploring how you can celebrate Black histories, Black presents, and Black futures.
Recommended Resources: 
About Black History Month | Library of Congress
Celebrating Black History Month | National Museum of African American History & Culture
Black History Themes | Association for the Study of African American Life and History 
A Proclamation on National Black History Month, 2023 | White House 
Commemorating and Celebrating Black History Month 2023 | Berkeley DEIBJ