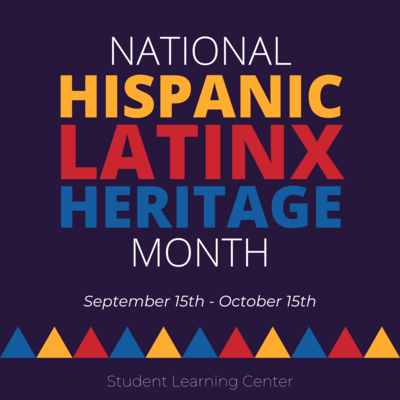 Today, September 15th, marks the start of Hispanic/Latinx Heritage Month!
First declared more than 50 years ago, this holiday was born out of activism in Latinx communities that demanded recognition of the cultures, histories, and contributions of people of Hispanic and Latinx descent. The month was chosen to coincide with the independence anniversaries of Costa Rica, El Salvador, Guatemala, Honduras and Nicaragua on September 15th and Mexico and Chile on September 16th and 18th, respectively.
Today, there are more than 60 million people of Hispanic and Latinx descent in the United States and nearly 1 in 5 Cal undergraduates identifies as Chicanx/Latinx. UC Berkeley is actively working to ensure that members of these communities are represented, welcomed, and given the opportunity to thrive on our campus. You can learn more about these efforts on the Hispanic Serving Institution Task Force webpage. 
The Student Learning Center is proud to serve our Hispanic and Latinx students and we invite you to join us in commemorating Hispanic/Latinx Heritage Month by learning more about the holiday and exploring how you can celebrate, honor, and empower these communities. 
Recommended Resources: