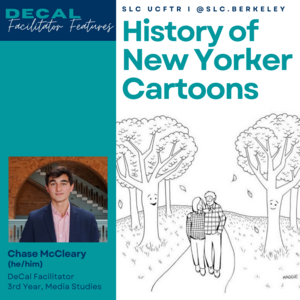 We want to celebrate all the creativity, knowledge, and community-building opportunities that DeCal facilitators have contributed to Cal's campus!
This month, we are featuring 3rd Year Media Studies major Chase McCleary (he/him) and his Spring 2022 DeCal History of New Yorker Cartoons!
What is your DeCal about?
The New Yorker has published some of the nation's most respected and recognizable cartoons for nearly 100 years, and some of the greatest writers illustrators – from the creator of Shrek to the creator of the Addams Family – have honed their craft between the columns of the magazine. This class takes a decade-by-decade deep dive into the history of these iconic illustrations, ranging from their technical, historical, and cultural significance.
What motivated you to facilitate your DeCal?
I have loved New Yorker cartoons since childhood, and after speaking with some other students on campus, I realized that I wasn't the only one. Having taken a fair share of fun DeCals, I decided that this would be a fun and enriching opportunity!
What is one thing you have learned from facilitating a DeCal this semester?
I have learned lots about humility and maintaining my confidence while presenting. You can't expect everyone to be incredibly interested or paying attention for every minute of a lecture, and it's important not to take a sleepy, bobbing head or a bored gaze out the window too personally.
What is one piece of advice you would offer future DeCal facilitators?
Try to make your lectures engaging in some way, that will make them much more fun for both your students and you!
Are you a DeCal facilitator? Fill out this Google Form to be featured on our next edition of DeCal Facilitator Features! 
Want to become a DeCal facilitator? Check out the SLC Undergraduate Course Facilitator Training & Resources Program website to learn more about the DeCal proposal process!