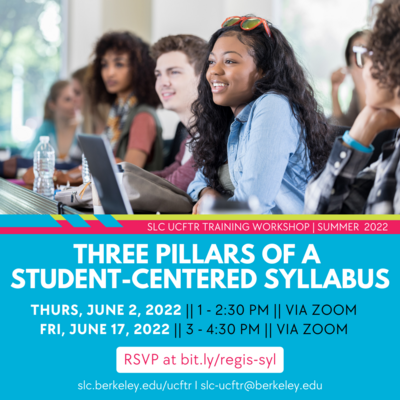 Are you facilitating a DeCal in Fall 2022? Need to complete your mandatory training requirement before the July 12, 2022 deadline?
Attend UCFTR's "Three Pillars of a Student-Centered Syllabus" training workshops this summer to get one step closer to becoming a DeCal facilitator! Discover the three key characteristics of an impactful and effective syllabus, as well as the resources to help you embody these qualities in your own course "blueprint"! RSVP at bit.ly/regis-syl to join.
Our upcoming training dates include:
Thurs, Jun 2, 2022 || 1 - 2:30 PM || Via Zoom
Fri, Jun 17, 2022 || 3 - 4:30 PM || Via Zoom
The SLC welcomes persons with disabilities & provides reasonable accommodations upon request. Email slc-ucftr@berkeley.edu with any questions or to request accommodations.