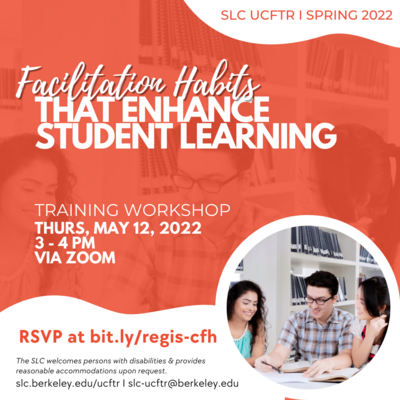 Calling all Fall 2022 DeCal Facilitators! Do you need to complete for mandatory training requirement?
If so, you're in luck! Due to high demand, UCFTR has added a new workshop date! Sign up for UCFTR's "Facilitation Habits that Enhance Student Learning" workshop on Thursday, May 12, 2022, 3 - 4 PM held via Zoom. RSVP via our Google Form at bit.ly/regis-cfh. This will be the last working offering for the Spring 2022 semester and spots are filling up fast, so RSVP today!
Still need to complete your mandatory training requirement, but can't make the May 12th workshop? Never fear because UCFTR is here! We will be offering training opportunities through Summer 2022 until July 12. Our summer training schedule will be announced in mid-May. Stay in the loop by signing up to receive UCFTR's Newsletter at bit.ly/ucftr-listserve.
Have questions about mandatory training or the DeCal proposal process? Email slc-ucftr@berkeley, and we'll be happy to support