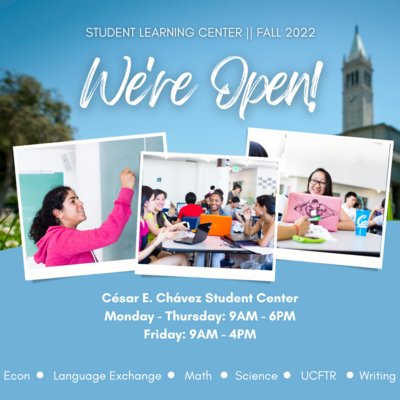 Happy 4th week of instruction, Golden Bears! The Student Learning Center is open Mondays – Thursdays 9AM – 6PM and Fridays 9AM – 4PM. We invite you to come join our collaborative learning community of professional learning specialists, peer staff, and student users at the Cesar E. Chavez Student Center! 
Stop by to enjoy our beautiful atrium study space or to utilize our variety of academic services, such as tutoring, study groups, and exam reviews. You can also explore our non-academic programs like Language Exchange, where you can foster meaningful connections within and across communities of language speakers, or Undergraduate Course Facilitator Training and Resources (UCFTR), where you can learn how to envision and create your very own DeCal.
For more information, take a look at our Programs page.