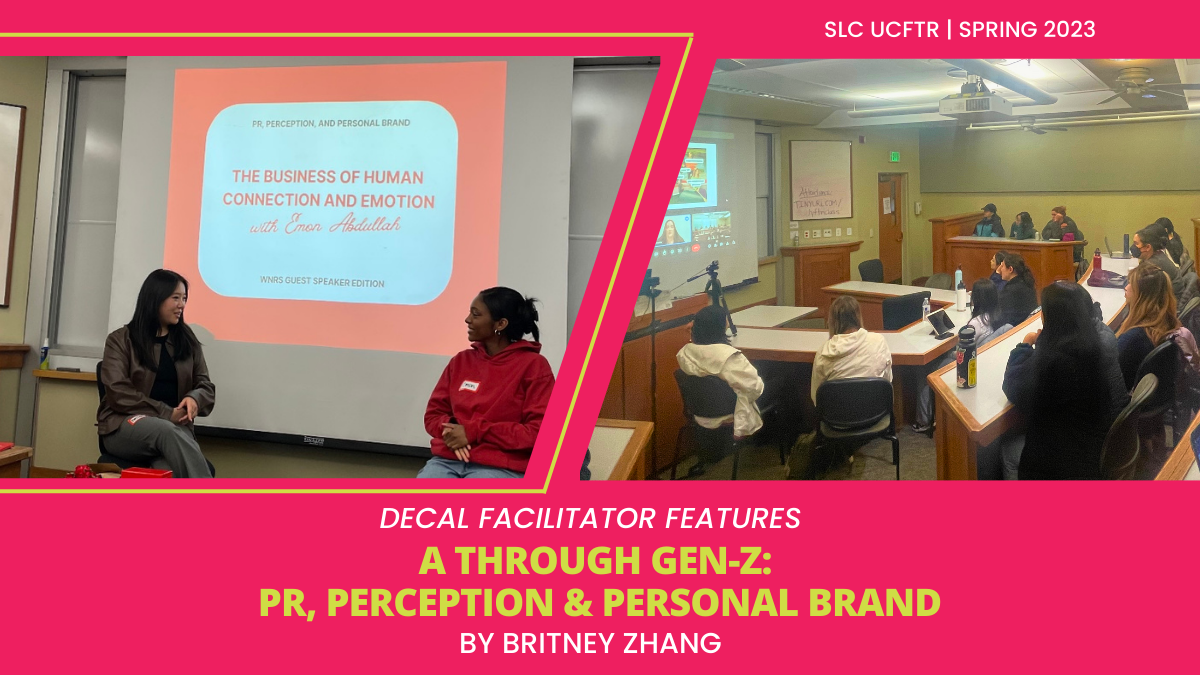 UCFTR's latest edition of DeCal Facilitator Features spotlights Britney Zhang (she/her), who is a 4th Year Business Administration Major currently faciltiating the "A through Gen-Z: PR, Perception & Personal Brand" for Spring 2023! 
Read on below to learn more about Britney's class, advice she has for fellow facilitators, and her takeaways from her experience! 
What is your DeCal about?
From the commercials we grew up watching to the products we are buying now, PR, Perception, and Personal Brand is a class about Gen-Z marketing. This class covers a variety of influences and culture that defines our generation's attention span: creators, influencers, celebrities, TikTok, media, and more!
What motivated you to facilitate your DeCal?
I have always wanted a class I could be creative in and talk about the latest trends. After I couldn't find that particular class, I decided to create it -- PR, Perception, and Personal Brand is a culmination of everything I want to learn in a course as an aspiring Gen-Z marketer.
What is one thing you have learned from facilitating a DeCal this semester?
How rewarding teaching is! This DeCal has been such a change of pace from my normal schedule as a student. It is truly a fun experience: putting together the lesson plan, teaching something you are passionate about, and seeing your hard work pay off. 
What is one piece of advice you would offer future DeCal facilitators?
Turn your classroom into a party! Class and learning can be fun. A huge component of my class is the classmates getting to know one another on a deeper level -- whether that is in their careers, when they are presenting a pitch, or even a simple "hi, how are you doing?" before we start class. Group collaboration is a crucial part of the learning experience in the class.
 
If YOU want to be featured as a DeCal facilitator, fill out this Google Form! Interested in becoming a DeCal facilitator yourself? Take advantage of UCFTR's program services!