Enrollment
Welcome, Class of 2027! Thank you for your interest in joining Summer Bridge 2023. Please accept your offer of admission via My Application Portal to proceed. Once you have accepted your offer, you will be able to access the Bridge Enrollment Form. Please note that you must sign-in to the "My Application Portal" to access this form. 
The deadline to accept your offer of admission May 1, 2023.
The deadline to submit the Bridge Enrollment Form is May 22, 2023. 
IMPORTANT: To be considered for federal financial aid for summer, scholars must complete the FASFAorCalifornia Dream Act applications for BOTH 2022-2023 and 2023-2024. 
Questions or concerns? Please don't hesitate to contact us at sbridge@berkeley.edu
Terms & Conditions of Enrollment
In order to participate in Bridge, scholars must agree to the following terms and conditions, applicable for the duration of the six-week program:
1. Unless prior approval is granted, scholars must be prepared to participate in all program activities from Monday, July 3, 2023 through Friday, August 11, 2023.
2. Bridge is a full-time program and scholars are required to attend all lectures, discussions, workshops, tutoring, seminars, and activities as scheduled for them. Moreover, scholars are not allowed to hold a job or internship during Bridge.
3. The Bridge Course Placement Committee will identify and place scholars in two courses that will best position them for success in the Fall. Scholars will be able to provide input prior to placement and request an appeal after if they do not agree with their placement.
4. The Bridge program staff will monitor scholars' performance and academic activities to assist them in meeting the requirements of the program.
5. Scholars on financial aid must be enrolled in 6-9 units and may not take a reduced course load during Bridge. Alternatively, they are not allowed to take additional summer courses, including those offered through Freshman Edge and Summer Sessions.
6. Scholars may not participate concurrently in other summer programs, such as Compass Summer Program or Posse Scholars Summer Program.
7. Scholars must adhere to the University's Code of Conduct.  These rules of conduct are intended to foster behaviors that are consistent with a civil and educational setting.
CANCELLATION
Cancellation before Arrival
Scholars may request to cancel their enrollment through May 31st with no cancellation fee, and on or after June 1st with a fee.
If the cancellation request is received and approved

by or before

May 31st

, there will be no cancellation fee assessed.

If the cancellation request is received and approved between

June 1st and June 14th

, students will be assessed a $200 cancellation fee regardless of reason.

If the cancellation request is received and approved

on or after June 15th

, students will be assessed a $600 cancellation fee regardless of reason.
Withdrawal after Arrival
No refunds will be given for withdrawal, dismissal, or leave of absence after the first day of Bridge. Scholars will be assessed a $600 cancellation fee regardless of reason, and any textbook, summer session, and Class Pass fees incurred. Any financial aid received may be canceled, and scholars may be personally responsible for paymentof fees.

Summer Housing
Bridge scholars form a close-knit living and learning community in David Blackwell Hall, a newly built residential complex located just one block away from campus. After submitting your Bridge Enrollment Form, you must also turn in your application for summer housing by May 25th at 5pm. You can access the application portal directly here. 
Residential life features include:
Housing and a full meal plan
Computer facilities
On-site gym and in-hall social programming
Financial Aid
Applying for Financial Aid
Financial aid for summer is available for eligible scholars who complete a FAFSA or Dream Act applications for 2022-2023 and 2023-2024. Scholars are urged to complete financial aid applications as early as possible to allow adequate time for all associated processes to be completed for Summer Bridge aid packaging. 
Types of Financial Aid
Types of summer aid may include Federal Pell Grants, Summer Fee Grants, Summer Bridge Grants, Federal Direct Subsidized Loans, Berkeley Loans, Federal Direct Unsubsidized Loans, and/or discretionary grants. Types and amounts of aid are based on each scholar's FAFSA or Dream Act application, enrollment, and financial need.
Please note that some Scholarships and work-study funds are not available during Bridge.
Summer Aid Offers
Summer Aid offers can be viewed after (1) scholars have successfully completed all registration and course enrollment steps and (2) all required Tasks have been submitted and processed. All offers are based on enrolled units and eligibility for aid.
To view an offer:
Log into CalCentral
Select "My Finances" from the menu at the top
In the middle of the page, in the Financial Aid and Scholarships section, select the 2022-2023 Academic Year 

and click on the blue "View Awards" link

If you have no outstanding tasks for the 2022-2023 academic year, your offer will be viewable at the right, under the "Awards" heading
If you do not see any awards, check to see if you have outstanding tasks that need to be completed, which you will see to the left of the page, under "Communications"
Scholars with incomplete files will not receive a final financial aid package until their file is complete and have finalized their enrollment.
Final packages are based on scholars' course load of 6 - 9 units. To view financial aid estimates for each unit load, please see the 6-9 Unit Estimated Aid Awards charts. You can also receive an estimate of your financial aid using the Summer Cost and Aid Estimator on CalCentral, under Financial Resources.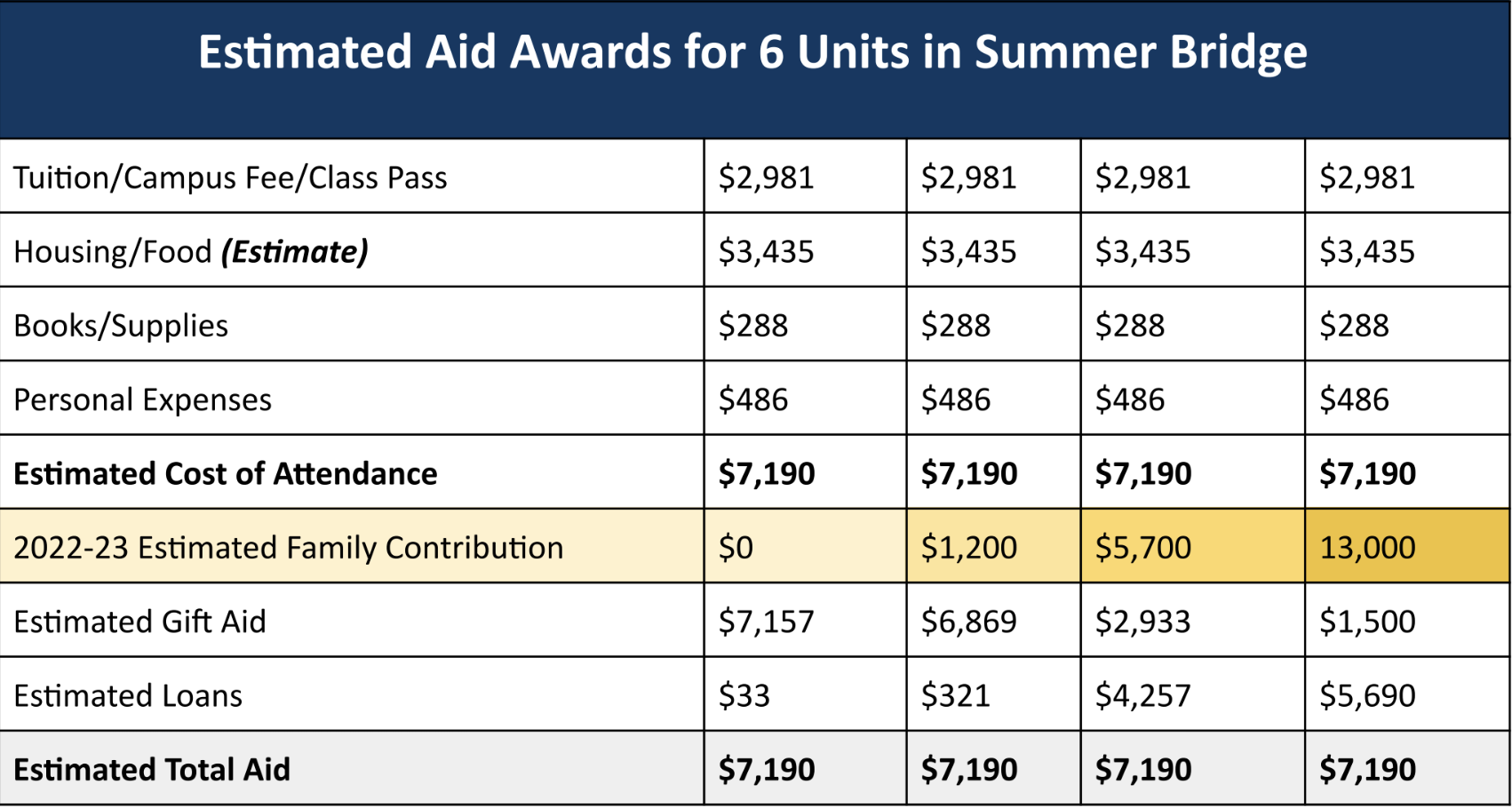 Required Documents
If financial aid needs additional documents from you, they will place "Tasks" in the My Finances section of CalCentral. Below is a list of the most commonly requested documents:
Dependent Verification Form
Independent Verification Form
Certification of Independence
U.S. Citizenship Confirmation
Eligible Non-Citizen Statement
FAFSA Household Change
FAFSA Income or Asset Change
Selective Service Verification 
Please note that a summer financial aid package will not be generated until all required documents have been received and reviewed by the Financial Aid and Scholarships Office. Scholars may also see additional tasks on CalCentral for the upcoming aid year (i.e. 2023-2024). While these do not prevent an aid offer for summer from being prepared, scholars should make note of these items for future action.
Accepting Loans
Scholars may accept loans once they see an official financial aid award package. Refer to Financial Aid dates and deadlines for more information. In CalCentral, select "My Finances" from the menu at the top. In the middle of the page, in the Financial Aid and Scholarships section, select Aid Year 2022-2023, then click on the blue "View Awards" link. Your awards for summer will be listed to the right of the page.  From there, you can accept, decline, or reduce the loans that were offered to you. In order for the loans to disburse, scholars must also complete other loan acceptance requirements such as a promissory note and entrance loan counseling. More information about loans, and what is required, can be found on the Financial Aid website.  
Contact Cal Student Central to change or cancel the amount of a previously accepted loan.
Please visit the Financial Aid website to review frequently asked questions about summer financial aid, and to learn more about financial aid at Berkeley. 
Other Funding Sources
Outside Scholarships
Scholars can use outside scholarships to help for the cost of Bridge. If a scholar already has a financial aid package and receives an outside scholarship/award, the financial aid offer will be adjusted for that award. Generally, need-based loans are reduced first to "make room" for the scholarship.
Scholars tend to have greater need during the academic year; therefore, it is important that scholars review their 2022-23 (summer) and 2023-24 (academic year) financial aid packages carefully to determine how best to maximize the benefits of their outside scholarships.
Payment
After course enrollment, Bridge fees are assessed through CalStudentCentral. In early July, any financial aid awarded and accepted is automatically applied to each scholar's billing account. Any outstanding amount is due by the start of the program through one of the accepted electronic payment methods. If full payment is not received by the due date students will be assessed a $25 late fee per month.

Post-Enrollment Checklist
Thank you for enrolling in Summer Bridge! To ensure the next stage of your journey is a smooth one, please attend to the following items on the post-enrollment checklist: